Testimonials
"Thanks so much for being patient with me! God loves you and I love you."
- Nell Rogers
Request Service
Residential Plumbing in Lubbock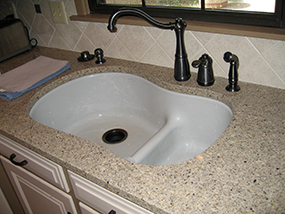 We stand behind our work and our word and still believe in the power of a handshake. Our friendly and courteous staff are highly trained and ready to handle all of your residential plumbing needs. Our estimates are always free, so please contact us to see what Caprock Plumbing Heating & Air Conditioning can do for you.
Plumbing Repair, Replacement and Installation in Lubbock
If you're having issues with the plumbing in your home, we have you covered. From slow drainage to backed up toilets, our certified plumbing technicians have the experience and expertise to get your water flowing again.
We have a full line of fixtures from top manufacturers. Whether you're looking for a basic faucet or a luxurious chromotherapy jet tub, we have exactly what you need.
Fuel Piping in Lubbock
Whether you need a new gas line, and existing line moved or suspect a leak, we can handle all of your gas line piping installation, service and repair.
Water Heater - Tankless and Conventional in Lubbock
We sell and service all water heaters to get your hot water flowing again. Tired of the wait and waste involved when you turn the hot water on in your sink? Tankless water heaters can help with that. Ask us about a tankless water heater today.
Backflow Prevention in Lubbock
When an incoming pipe gets crossed with an outgoing pipe, you get used, dirty water mixed with potable water. We ensure that all of our installed lines are optimized for backflow prevention.
Slab Leak Testing and Repair in Lubbock
A leak in the slab foundation of your house can be detrimental to its structure and stability, not to mention what it does to your home's interior. Our certified plumbing technicians can test, find and fix a slab leak and get your water flowing again.
Water conditioners and filters in Lubbock
If you've lived in West Texas long, you know what our water can do to our fixtures, cars, exterior brick, etc. Not to mention what our ice and water taste like right out of the tap. Visit with one of our staff members about the numerous benefits of installing a water conditioner.
Frozen Water Pipe Repair in Lubbock
Waking up to a busted pipe in your home on a cold winter morning is never fun. If one of our harsh winters gets the better of your pipes, we can help get it thawed and fixed in no time.