Testimonials
"Thanks so much for being patient with me! God loves you and I love you."
- Nell Rogers
Request Service
Commercial Plumbing Services in Lubbock
We service and repair existing construction as well as install in new construction. We stand behind our work and our word and still believe in the power of a handshake. Our friendly and courteous staff are highly trained and ready to handle all of your plumbing needs - whether it be residential, commercial, or institutional work. Our estimates are always free, so please contact us to see what Caprock Plumbing Heating & Air Conditioning can do for you.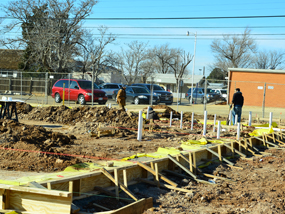 Fuel Piping in Lubbock
Whether you need a new gas line, an existing line moved or suspect a leak, we can handle all of your gas line piping installation, service and repair.
Drain line cleaning, repair, and replacement in Lubbock
Do you have a drain line that has been slowing down? We can get to work on it and have it flowing in no time. If the line is need of repair or replacement, we will have it done quickly and cleanly.
Fixture Installation in Lubbock
We can handle the installation or repair of the fixtures in your business. If you're remodeling, building or have a problem, give us a call. We can help you with the following fixtures:
Faucets
Sinks
Tubs and Showers
Commodes
Garbage Disposals
Grease Traps
Water Conditioners and Filters in Lubbock
If you've lived in West Texas long, you know what our water can do to our fixtures, cars, exterior brick, etc. Not to mention what our ice and water taste like right out of the tap. Visit with one of our staff members about the numerous benefits of these water conditioners.
Tankless and Conventional Water Heaters in Lubbock
You can trust us to help you choose the right water heater for your business. Our certified plumbers can handle your water heater installation, repair or replacement. We will also work with warranty companies to get your hot water flowing again in no time.